Stencils
Flexible
Durable
Inexpensive
Reusable
Words AND pictures if desired
Clean with turpentine or mineral spirits
Flexible and inexpensive stencils are precut to your size and provide a means of simple application to numerous surfaces where they quickly provide legible warnings, cautions and product identification. Easily cleaned and reusable, they are made of 1/32" flexible Rowmark™ and can be used with either spray or brush-on paint.
Whether you're marking a concrete foundation or a small wood carving, a door, a wall, or a load of lumber, we can provide a stencil for you. We always add a 'spash area' (2-3" depending on the size of the stencil) so that the underlying surface will be protected from those inadvertent spills. We can make stencils up to 2' x 4'. Let us know what you need.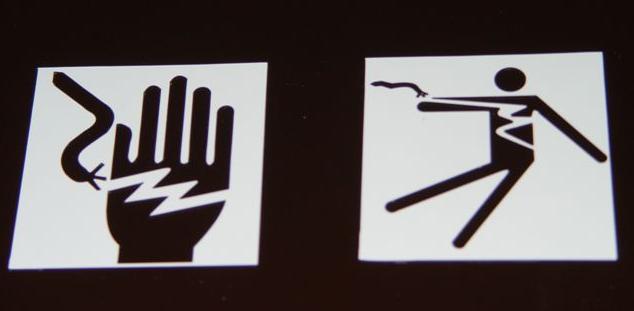 The above were samples for customer approval created without a splash area.
When you fax us your text and the size of stencil (or letter), we'll determine the letter size (or overall size) appropriate, and we'll give you a quote that you'll find unbeatable. A stencil from American Nameplate will provide long, rugged service.
Don't skimp: get enough for every crew vehicle or project that needs them. You'll save time and money in the long run!
And don't forget, with our stencils, you can label those tools for the jobsite ~ another use for this GREAT product.
---
Important Note About Stencil Font Selection
We use a standard "stencil" font for all of our stencils. Without this, your "O", for example, would look like a big dot rather than a letter and the internal part of a "C" would probably break before the sign even reached you. As a result, while certain text can be created in a limited number of other fonts, the STENCIL font is specifically designed to achieve the desired results. We're the engraving experts so if you've got a question or need some advice, let us know!
We have set the minimum text size for stencil lettering at 3/4" high. From experience we know that letters made below that size produce a product that will break and become unusable almost immediately. While we always try to fulfill customer requests, we do not want to produce items that will be an embarrassment for us.
Here is a photos of two stencils produced as samples to show the problems:

On the right is a word produced using 3/16" high letters. This was so small that the specialized engraving cutter used for stencils was just too heavy for this size letter and actually broke center pieces out. The larger letters are 1/2" high. As you can see, the letter "A" is barely held together and, in fact, broke apart as it was being taken out of our repliche orologiscanner despite being handled gently. This is the reason we set a minimum 3/4" high lower limit on our stencils. Want foot-high letters? SURE!!! Not a problem....