Brass Disks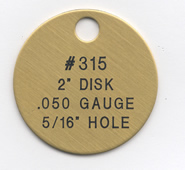 Brass is uniquely suited for situations where corrosion or high humidity might be unsuitable for other tag material. Some prefer it for its extraordinary durability. We provide brass disks in several sizes, engraved to your specifications with fast turn-around time and in quantities of one piece or a thousand.
If you don't see exactly what you need, let us know as we have access to some additional sizes that are not normally in our stock. We'll still be able to provide prompt delivery and low cost!
---
An Alternative
At American Nameplate, we pride ourselves on being able to provide you or your business with workable high-quality alternatives! Here's one example:
If you need to mark your piping or other assets with a hanging tag but don't want the expense of brass disks, please consider our 1/8" thick engraved Gravoply™ disks.
Your choice of material allows many choices of tag and choice of engraved letter color
Can be engraved one side or both
Hole size of your choice
Use in nearly any environment or temperature
Less expensive than brass
Withstands harsh weather
Cleans easily