Custom Engraved Name Badges / Nametags
Whether it's namebadges for your group, your employees, your family reunion, or your top-notch meeting, American Nameplate will help you design a product that's
Professional
Dignified
Durable
Inexpensive
Let us help you project YOUR image!
NO MINIMUM ORDER
NO 'PER LETTER' CHARGE
We can engrave logos (line drawings only) with a one-time setup charge. (Want a reasonably priced full color logo? See here.) Our years of experience can help you decide on something that'll be just right to provide a solution while conveying a professional and friendly image of your organization.
Materials
We use durable Rowmark™ 2-ply plastic material.
For other choices, see our metal and Snapi Color Tags.
Sizes/Shapes
Square ~ Beveled ~ Rounded Corners ~ Custom Shapes
Over the Pocket ~ With or Without emblems affixed
You decide!
Colors
A wide selection of color choices is available at
no additonal charge!
Fasteners (Findings)
Pins - Clasps - Magnets - and more
See here for your many choices
• • • • • • • • • • • • • • •
Below are our most common 'catalog' items. These are just samples however. Your nametag is custom-made and can be any size/color you prefer.




OTP

Over-the-Pocket

Shown with standard metal organizational emblem

Engraved badge with stock or custom-designed pin
(Note: Custom-designed pins are not cost-effective in quantities of less than 100 items)



Don't forget to see our Metal Name Badges and our Snapi full-color laminated tags. They're great alternatives!
Clubs and Groups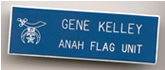 Looking for a nametag for your club or fraternal body? We're the group nametag specialists! Check this page!

Military Organizations
We provide military nametags and nametag solutions for schools and organizations throughout the US. Click here to see more of what we can do for you!

---