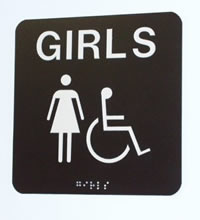 ADA Signage
New construction? Alterations? Comments from employees or visitors? Concerns about lawsuits?
Whether you're adding or changing signage in a present structure or starting fresh, we can help yourCheap Jerseys Market facility meet the requirements of the Americans With Disabilities Act (ADA) or the Architectural Barriers Act (ABA).
We don't pretend to be lawyers but we can assist you in providing architectural and wayfinding signage that is both functional and compliant. Using ADA-compliant signage shows your commitment to those with disabilities. We'll help you with the contrasting color combinations needed to meet the ADA's requirements while designing signage that will enhance your facility both aesthetically and functionally.

BILINGUAL? YOU BET!
We produce ADA-compliant bilingual signs! Just let us know your needs. We can produce bilingual signs in any combination of languages.
ADA Signage Made Simple
ADA signs can be done in four ways:
"plain" (as shown in the 'Baby Changing' and 'Girls' examples with either square or round corners
cut shapes (as shown below in the 'No Smoking' sign - We can match or create a shape!)
on a matte (sample below with an explanation)
or in a frame.
Here are the components of an ADA compliant sign:
Color and contrast compliant materials and finishes - non-reflective (we'll help you do that!)
Letters and pictograms that are raised 1/32" from the surface (appliqué material)
Letters must be in UPPER CASE and between 5/8" and 2" high
Pictograms - if used - must be on a sign at least 6" in height
Raster™ Grade 2 Braille
The non-glare substrate material (the 'background' on which the appliqué is placed and into which the raster lettering is placed) can be chosen from any of the following colors with appropriate consideration for contrast with the appliqué material shown below:
ADA Substrate

3-201

White

3-231

Ivory

3-311

Sea Gray

3-342

Smooth Silver

3-371

Vintage Silver

3-381

China Blue

3-401

Black

3-511

Blue

3-541

Blueberry

3-561

Sapphire

3-591

Ocean Blue

3-601

Red

3-631

Ruby

3-651

Orange

3-661

Dusty Rose

3-711

Smooth Gold

3-721

Marigold

3-731

Antique Gold

3-811

Parchment

3-831

Matte Beige

3-841

Dark Brown

3-911

Bright Green

3-921

Teal

3-931

Celadon
And the appliqué (the raised text and pictograms) can be from among the colors below provided they offer sufficient contrast with the substrate material chosen: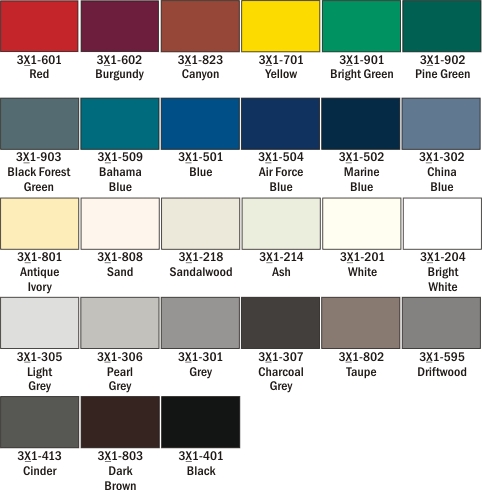 Framed Signs
Every customer who's considering ADA compliant signage falls in love with our Framed Signs.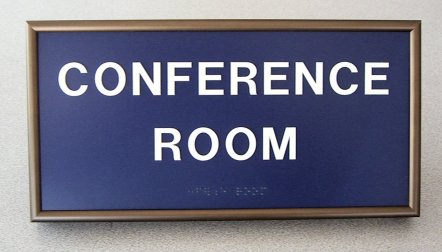 Frames come in a variety of colors (if you wish - not a requirement of ADA). We stock the colors below and can fabricate signs with them immediately. Other colors are available but require a one week lead time and a minimum order. Please ask us. NOTE: To see a larger chip, click on the color below and a new window will open.
| | | | | |
| --- | --- | --- | --- | --- |
| Silver | Frosted Silver | Gold | Frosted Gold | Graphite |
| Pewter | Frosted Pewter | Contrast Gray | German Silver | Crimson |
| Frosted Walnut | Anodic Black | Matte Black | Cobalt | Dusk |
| | | Hunter Green | | |
** These color samples may not be exact representations of our products. Monitor resolution, color settings and display type can all effect how our color charts are viewed on the Internet.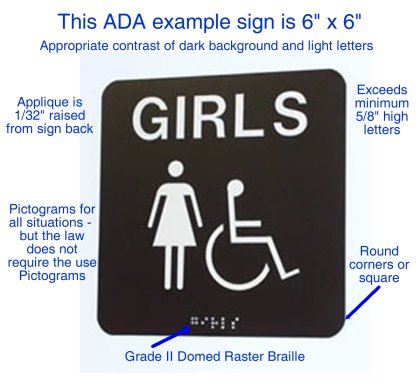 We provide peel-n-stick closed cell foam tape for mounting unless otherwise specified. We can also mat signs for an even more appealing visual appearance as shown in the next picture below, to blend with your business decor. Custom cut shapes are also available.
THERE'S NOTHING THAT SAYS ADA SIGNAGE
MUST BE DULL OR UNINTERSTING!
What about mounting?
Just call us and we'll provide simple and easily understood instructions that require the simplest of materials - just a broom stick or anything 60" long and a pencil.

---
More about ADA-Compliant Signage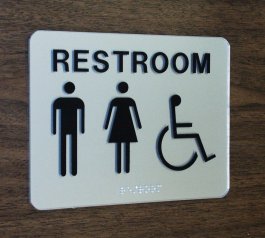 You may wish to visit the ADA Accessibility Guidelines (sometimes referred to as ADAAG) on the U.S. Architectural and Transportation Barriers Compliance Board web site. They have a very interesting online course to help you with an in-depth understanding of ADA requirements. If you'd rather just get going, trust us to provide signage that will help keep your business or building in compliance with the laws.
ADA signage is slightly more expensive than signs without raised raster lettering but it can prevent future problems. Think about ADA-compatible signs for
check-out aisles
corridors/hallways
telephone stands
restrooms
office doors
coin-op machinery
elevators
or any other location in or around your business where wayfinding or identification signage will help guide visitors or employees.
Compliance is YOUR responsibility! We can help!
| | There's no need for signage to be dull and boring! |
| --- | --- |
Custom colors? Specific needs?
Contact the specialists at American Nameplate....
We can also 'MATTE' your signage to give it an even more professional 'look and feel' and to match with your decor!

In this example, we've used a white substrate material with dark green appliqué and a dark green matte on which the substrate is placed. This gives a beautiful raised appearance.
And we can ensure that your signage is coordinated throughout your building!
Here is a set of signs we did during August, 2006. Braille and appliqué is used where appropriate while the other signs are reverse-engraved and paint filled to match. This is an example of how we can help you coordinate your signage throughout your facility, meeting your design needs, and keep you well within your budget as well.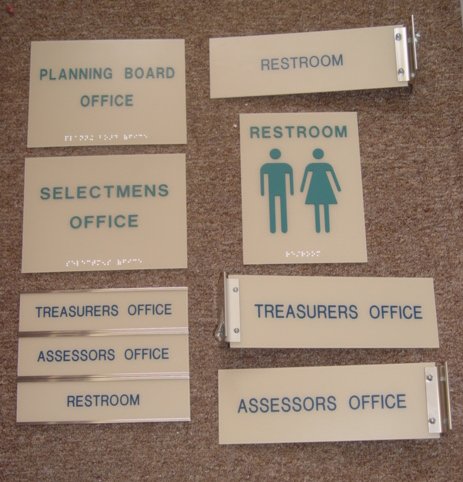 Directories, wall signage, hallway signage - anything you need!