Personal Identification Products
There are SO many reasons to wear a personal identification of some kind and recent news stories have pointed out the tragedies of not doing so. Many folks are seeking products without the blaring announcement of a medical condition. American Nameplate offers the following items that can be used for identification of persons with or without medical needs.
Boot, Sneaker or Shoe Tag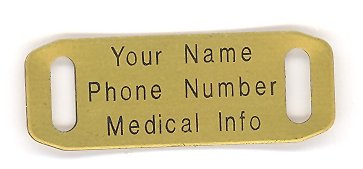 PDSHOE - Brass - Engravable on both sides - Max 4 Lines/15 Characters Each
Check out these great looking tags!
Military-style Dog Tags - ALUMINUM - 1 1/8" high x 2" wide

PIDGR - Green

PIDR - Red

PIDGA - Gold Aluminum

PIDP - Purple

PIDNK - Pink

PIDB - Blue

Aslo in STAINLESS STEEL

ALSO AVAILABLE IN BRASS

More pictures coming soon!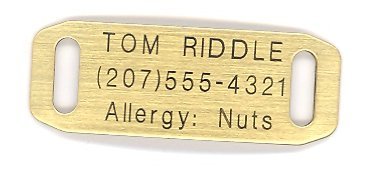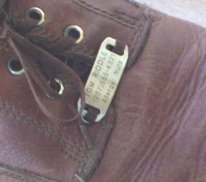 We also have oval tags that can be worn either attached to a shoe lace or with a neck chain.
Available in red or blue aluminum, engravable up to 5 lines of 15 characters on EACH SIDE
(text need not be identical)
Right now, American Nameplate is developing a broad line of these products. Inexpensive and with plenty of room for your personalization, they can fill SO many needs. If you have something in mind that we don't show here, give us a call or drop us an e-mail as we may have that item already! These items make excellent and thoughtful gifts for students, travelers, those with problems remembering and many more. Don't forget yourself when you order.
Something else to think about....
We also have these colored shoe/sneaker tags available IN QUANTITY ORDERS - 25 or MORE ONLY. This would be a GREAT identity builder for scout troops, spirit clubs,
Remember, you can have ANYTHING engraved on these tags so whether you're involved in Campfire, Boy Scouts, Brownies, a varsity pep club or ANY group where group identity helps form bonds of friendship and cooperation, this is a GREAT idea for you! SO very inexpensive but so valuable: have your school name and team on one side with repliche orologi esattithe person's name on the back for identification if needed. Your bowling team, cheerleaders, Rainbow assembly, or ANY group will find these fun! Quick delivery too!
Sneaker/Shoe Tags

300 series:
Aluminum
3/4" high x 1 3/4" wide

PID300G - Green

PID300P - Purple

ID300R - Red

PID300B - Blue

PID300GA - Gold Aluminum

200 Series:
Aluminum
5/8" high x 1 3/4" wide

ID200P - Purple

ID200R - Red

ID200GA - Gold Aluminum

ID200G - Green

400 Series:
Aluminum
1/2" high x 1 3/4" wide

ID400A - Aluminum Color



replica horloges
When it comes to Personal Identification and Identity needs, turn to American Nameplate!